DESCRIPTION
Dear sisters, brothers and friends,
Rethink Rebuild Society is pleased to invite you to
An Evening with Janine di Giovanni
The event will include:
1. A screening of the film:
7 DAYS IN SYRIA (2015)
From the notebooks of Newsweek Middle East Editor, Janine di Giovanni
2. A Q&A with Janine di Giovanni and the film producer Scott Rosenfelt on Skype from America
3. A book sale of Janine's book:
The Morning They Came for Us: Dispatches from Syria
Please arrive on time as the film will start at 19:15 exactly to allow plenty of time for discussion afterwards.
THE FILM: 7 DAYS IN SYRIA (2015)
Directed by: Robert Rippberger
Runtime: 1h 15min. In English and Arabic with English subtitles.
Certificate: 15
When fighting broke out in Aleppo in 2012, war journalist Janine di Giovanni, applied to Newsweek to cover the war there. The editor rejected her proposal deeming the situation too dangerous. She went anyway.
Filmed in November 2012, 7 Days in Syria is a harrowing look at the human side of war. It seeks out the heroes of Aleppo, chronicling the civilians keeping the city running, providing bread, administering medical supplies, burying dead bodies, and those internally documenting the atrocities for war tribunals.
"7 Days in Syria gives a window into the lives of families struggling to survive on the frontlines of the Syria conflict. Their courage and resilience shines through in impossible circumstances". - Angelina Jolie
"We chose to film a doctor, a baker, a mother, a fighter, a journalist. Everyone who speaks in our film tries to convey that they are human, that they have lives not too different from ours—studies, jobs, families, pets, interests, homes. This film is a testament to these ordinary people". (Janine di Giovanni for Newsweek)
"Although we are being shelled we have been living, and we will continue to live. This country is not for Bashar Al-Assad. It is for us. And despite everything, we will stay here…" - Waed from Missyaf, speaking to Janine in 7 Days in Syria).
The film had a private screening at Britain's House of Lords and to senior members of the United Nations.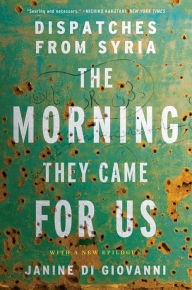 THE BOOK: THE MORNING THEY CAME FOR US: DISPATCHES FROM SYRIA (2017)
In May of 2012, di Giovanni travelled to Syria, marking the beginning of a long relationship with the country, as she began reporting on the conflict there. Drawn to the stories of ordinary people caught up in the fighting, Syria came to consume her every moment, her every emotion.
Translated into 18 languages and delivered with passion, fearlessness and sensitivity, The Morning They Came for Us is an unflinching account of a nation on the brink of disintegration, and an unforgettable testament to human resilience in the face of devastating, unimaginable horrors.
"Reading this book is at once necessary, difficult and elating. Her reporting from the Syrian revolution and war is clear-eyed and engaged in the best sense – engaged in the human realm rather than the abstractly political.... Such reporters as Giovanni, who not only visit but also live (and often die) through wars not their own, are heroic" – Robin Yassin-Kassab, Guardian.
"It is crucial to reveal the human stories behind the news – and in The Morning They Came For Us, di Giovanni does this with heart-breaking eloquence…., it is clear that she is far more than merely a visitor. Her account of Syria is a testimony to the power of empathy, conscience and understanding" – Elif Shafak, Financial Times.
Copies of Janine's book will be on sale for £5.99 (RRP: 16.99)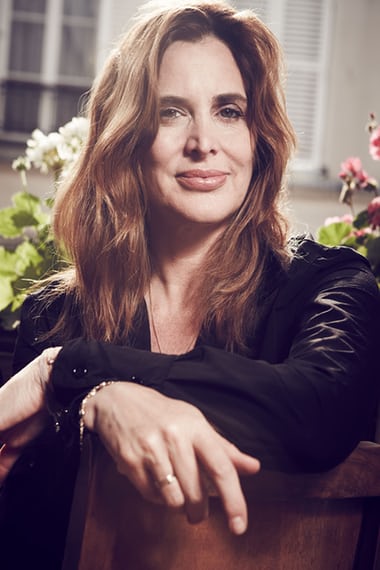 JANINE DI GIOVANNI
Janine di Giovanni is an author, foreign correspondent, and the former Middle East editor at Newsweek. She is a regular contributor to The Times, Vanity Fair, Granta, The New York Times, and The Guardian. She is a consultant on Syria for the United Nations High Commissioner for Refugees (UNHCR).
Di Giovanni began reporting by covering the First Palestinian Intifada in the late 1980s and went on to report nearly every violent conflict since then, including Afghanistan, Iraq, Israel, Algeria, Gaza, the West Bank, , Rwanda, Pakistan, East Timor, Bosnia, Kosovo, Somalia, Nigeria, to name a few.
In 2000, she was one of the few foreign reporters to witness the fall of Grozny, Chechnya. Her depictions of the terror after the fall of the city won her several major awards.
Di Giovanni has written a number of books including her most recent book on Syria The Morning They Came For Us, and made two long format documentaries for the BBC and she is herself a subject in the documentary films No Man's Land (1993), Bearing Witness (2005) and 7 Days in Syria (2015). Janine is currently Edward Murrow Senior Fellow at the Council on Foreign Affairs in New York researching minorities in the Middle Esat.
In 2013, di Giovanni was named one of the 100 most influential people in the world of armed violence by the organization Action on Armed Violence (AOAV). She has won various other awards including the Courage in Journalism Award (2016) for her distinguished work in war zones focusing on tracking war criminals over the past 25 years, most recently, Syria and Iraq.
"My role is to bring a voice to people who are voiceless. To shine a light in the darkest corners of the world. When I go back to Syria next week in fact what I see is incredibly heroic people some of them fighting for democracy, for things we take for granted every single day. And that is pretty much why I do it". (Janine di Giovanni on Ted Talk). Watch Janine's Ted Talk here:
https://www.ted.com/talks/janine_di_giovanni_what_i_saw_in_the_war#t-489131
"Giovanni attended the aftermath of the regime's August 2012 massacre of at least 300 civilians in Darayya, a suburb west of Damascus. The war correspondent Robert Fisk, she notes, entered Darayya on the same day, embedded with the regime army, and described the rebels as the perpetrators. Giovanni went in with civilians, interviewing locals. None of them corroborated Fisk's story. Nor did Human Rights Watch, nor Darayya's local coordination committee. Of course, once Giovanni's article appeared, her Syrian visa was revoked".(Robin Yassin-Kassab, Guardian)
To buy tickets, click here